Improve lot management with
real-time vehicle monitoring
Get a complete view of your inventory with just a few clicks. LotVision's simple enhanced functionality and innovative features serve auctions, dealerships and other independent lots, saving you time and work so you can get back to doing what you do best: sell cars.
For auction houses

Know the precise location and status of every vehicle to increase team productivity, help you hit your Service Level Agreements and deliver the best possible customer experience.

Use LotVision data to optimize speed to market, simplify vehicle reconciliation and more.
BOOK QUICK TOUR
For dealerships

See inventory status, health and precise location across all sites, in real-time.

Improve customer experience through validation of vehicle condition, battery, and workflow status before retrieval, and make finding the vehicle faster.

Increase operational performance across sites with detailed, real-time and historic site and vehicle data.
BOOK QUICK TOUR
For vehicle fleets

Ensure that the vehicle is ready for the customer, before you retrieve it.

Enable staff and 3rd parties to locate vehicles quickly.

Optimize your inventory with alerts that identify vehicles spending excessive time in zones and going off-site out of hours.
BOOK QUICK TOUR
LotVision use cases
Locate vehicles across multiple sites
Find vehicles faster to improve your customer's experience and make better use of staff time.
Using geo-fencing, know the precise location of every vehicle, on demand, all the time.
Monitor vehicle health
Use remote status and health monitoring to ensure vehicles problems are identified before test drives.
Through diagnostic information from the OBD port, alerts can be configured to notify of a vehicle health issue, such as faulty car part or system status.
Improve protection and recovery
Know where each vehicle is at all times. See instantly if a car is taken off-lot or has been moved without authorization.
Custom alerts can be created to notify if a vehicle is in the wrong place, at the wrong time.
Simplify reconciliation
Use lot management data from LotVision to increase frequency and accuracy of inventory reconciliation.
Provide quick access to vehicle location for your floor plan companies or your management team, so they can quickly locate vehicles that require attention.
Optimize repairs
Increase cycle time and get your vehicles to the frontline faster.
View aggregate reporting on average time spent in each stage of repair; identify opportunities for process improvement.
Smarter lot management is good for business
With real-time lot management, LotVision provides a better customer experience, helping you to find vehicles faster and ensuring they're always ready to drive.
LotVision helps optimize lot throughput which increases staff productivity, reduces the proportion of depreciating stock and gets vehicles to sale faster. That means increased return on investment.
BOOK QUICK TOUR
Cut time spent locating vehicles by

73%*

Know instantly where any vehicle is, as soon as you need it.

Accelerate repair time by

25%*

Status monitoring can increase vehicle throughput.

Shorten time to sale by

7 days*

Optimized workflows reduces vehicle time to frontline.

Reduce contentious negotiations by

10%*

Get complete visibility of onboard diagnostics readings to ensure every vehicle is ready to drive off the lot.

* Source: Cox2M client deployments

The LotVision platform
LotVision is a complete, integrated vehicle monitoring platform featuring in-vehicle sensors, networked connection, monitoring software, and asset management integration.
LotVision provides automotive businesses with real-time vehicle location, status, and health visibility of the entire inventory. In addition to knowing exactly where a vehicle is in the workflow, LotVision can provide complete visibility of battery levels, in addition to the health of key systems through remote onboard diagnostics (OBD).

The platform integrates with your vehicle inventory management solution, helping to get you up and running quickly, and ensuring you have real-time information on all vehicles. From the clean and intuitive interface of the LotVision software, which runs on a range of devices, your staff can instantly see the location and status of any vehicle.
EXPLORE SOLUTION
Case study:
Manheim

Find out how Manheim and Cox 2M fitted 26,000 trackers in six hours and used LotVision to transform the company's operations.
Read more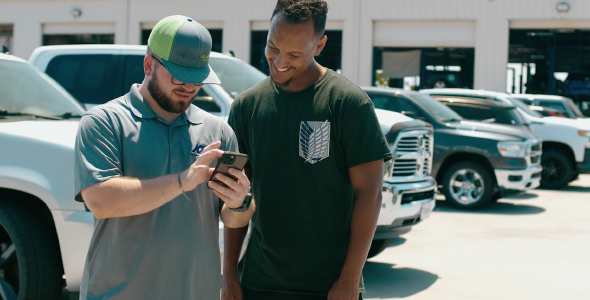 Case study: Kernersville Chrysler Dodge Jeep

Discover how a private dealership used LotVision to improve lot performance and the customer experience.
Read more
Get started with LotVision

Cox 2M is the commercial Internet of Things (IoT) business line within Cox Communications. Our mission is to unleash the true potential of a connected world by enabling complete asset tracking and monitoring solutions; giving businesses and communities the data and tools they need to improve processes, realize operational efficiencies, and deliver better experiences to customers and residents.