Mastering a 500,000-vehicle challenge
Manheim has well over 500,000 vehicles on site at any given moment, with massive amounts of inventory incoming and outgoing every day. The company lacked an accurate system for tracking the millions of cars that cycle through their auto lots each year.
Manheim needed a new way to manage its vehicle stock; one that was flexible and scalable enough to deal with its massive volumes and short sales cycles and which could help it achieve efficiencies in many different areas of operations. Also, Manheim wanted to enable 3rd parties and customers to become self-serviceable.

The business had high-expectations from the desired lot management solution. The nationwide network of sites required a common platform that could provide new levels of visibility into vehicle location, status, and health – and where functional management could discover personalized insights to improve their operations. Also, the solution needed to be intuitive and provide rapid mobilization as any delay causes significant workflow backlogs.
Around 30,000 tracking devices installed within 6 hours
To bring data-driven efficiency to its lot management, Manheim chose a tailored implementation of Cox 2M LotVision, with planning and managed deployment across all sites over a period of 12 months. Working together at one site, the two companies installed approximately 30,000 vehicles with tracking devices within six hours.

To date, the management platform has been mobilized at all sites. Using the data from these sensors, and the LotVision platform, Manheim's managers and lot-staff can work faster and smarter.


Faster turnaround, improved customer experience
Within a week of installing LotVision, Manheim had solved its lost car problem. Managers used data to quickly find opportunities within vehicle path workflows to improve efficiency, eliminate duplicated effort, accelerate speed-to-market and reduce cost. Also, the capability to capture and analyze onboard diagnostics (OBD) readings and vehicle battery levels remotely was instrumental in driving additional efficiencies and improvements in customer experience.
‍
LotVision's impact on the business

Executives

Increased speed-to-sale, reduced operating costs and identified centers of best practice, enabling the business to better hit its goals.
Business manager

Managers have reduced costs with simplified inventory management and improved commercial performance through alignment to SLAs.
Operations

The operations team has improved staff and lot productivity through auditing workflows. Real-time alerts have also reduced vehicle risk.
End customer

Thanks to intuitive software and continuous vehicle location and status monitoring, customers get their cars faster and ready to drive, every time.
"Possibly the smoothest deployment to date! Kudos to the staff here and our partners at Cox 2M for the attention detail and the effort that it took to get this milestone achieved!"
Dan Barber, Director, Operational Excellence, Manheim PA
100% deployment across
all Manheim sites

ROI achieved immediately
after installation

500k sensors deployed
across Manheim

Accurate vehicle location
within 3 meters

Vehicle pairing
under 60 seconds

Live workflow data available and actionable within first day of deployment.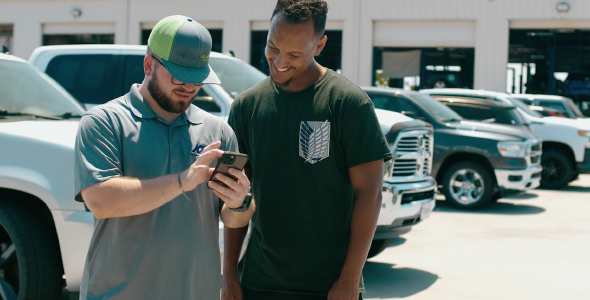 Case study: Kernersville Chrysler Dodge Jeep

Discover how a private dealership used LotVision to improve lot performance and the customer experience.
READ MORE
Get started with LotVision

Cox 2M is the commercial Internet of Things (IoT) business line within Cox Communications. Our mission is to unleash the true potential of a connected world by enabling complete asset tracking and monitoring solutions; giving businesses and communities the data and tools they need to improve processes, realize operational efficiencies, and deliver better experiences to customers and residents.